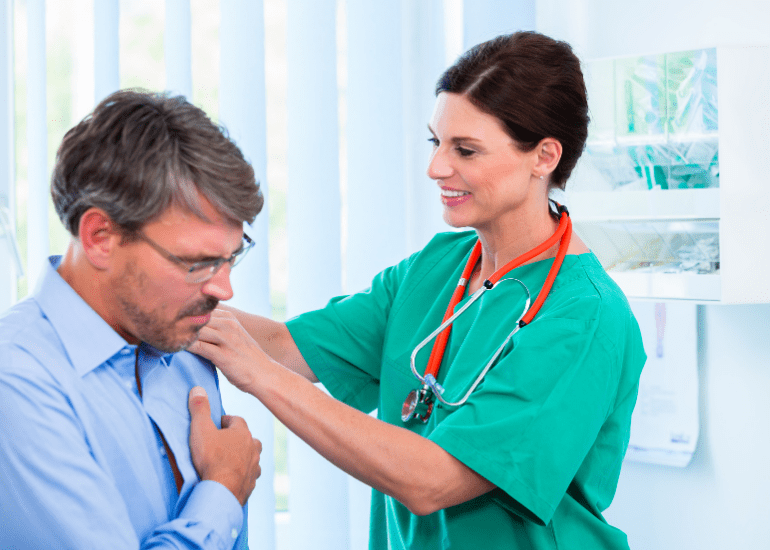 04 Sep

Recovery after Shoulder Surgery
Recovery after Shoulder Surgery
We can help with recovery after shoulder surgery. The group of muscles and tendons that surround, stabilise and allow movement at the shoulder joint are the rotator cuff muscles. Generally any surgical procedure that involves the shoulder will necessitate some interference with the rotator cuff. Potential surgical procedures to the shoulder include arthroscopy to repair damaged cartilage or a dislocation, and open surgery to repair fractures or to perform shoulder joint replacement. Recovery from arthroscopic procedures tends to take a shorter time than recovery from open surgery.
No matter the reason for your shoulder surgery, here are some general tips to help maximise your recovery.
Support your Rotator Cuff
A sling will support your arm until your shoulder muscles begin to heal. You may also consider extra support when lying down, for example positioning a pillow to keep your arm as still as possible during sleep and to prevent you lying on the affected side.
Develop your Rotator Cuff
The rotator cuff muscles will take time to heal.  Initially you should avoid putting any strain at all on your shoulder.  Then, we will give you different exercises for different phases of your recovery. These exercises will help strengthen your rotator cuff muscles and maximise the functioning of your shoulder after surgery. Returning to full function could take as long as six to nine months, so be patient and keep up with your physiotherapy.
Manage your Shoulder Pain
Prior to surgery, one of your primary symptoms is likely to have been shoulder pain. You will be under anaesthetic under surgery, so you will not experience shoulder pain then.
To manage any pain in the weeks and months that follow shoulder surgery, you should take either prescribed or over-the-counter medication. As the rotator cuff muscles heal and the swelling and bruising from the surgery reduces over time, your need for pain relief should lessen.
In addition, wearing your sling should help reduce shoulder pain and reduce the likelihood of unnecessary strain or damage to the muscles and tendons during the recovery period.
Visit our clinic in Chelmsford, Essex now
You will get advice from your surgical team about when it is best to reintroduce various activities into your routine. For example, from about 6 weeks you may be able to start using your shoulder for gentle tasks such as washing and dressing while at 12 weeks you will be thinking about using your arm for other moderate activities, such as swimming. You should plan to return to work between 6 weeks and 4 months from your surgery, depending on your job and the type of surgery that you had. However, you should leave it for up to a year before you return to any sports that have the potential for hard contact, such as hockey, football or rugby.